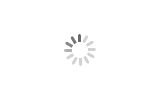 Freeze-Dried Probiotic Powder Lactobacillus Rhamnosus
Brand :zhongke-jiayi
Product origin :qingzhou,shandong
Delivery time :according to the quantity,To be negotiated
Supply capacity :10 Tons per Month
Highlights:
-16s rRNA genetic identified;
-API 50CHL Bacterial identification
- ISO/GMP/Halal certification.
Customized Formulations
-Single or multi-species blends
-Selected excipients and other ingredients
1.Product Name:
Lactobacillus Rhamnosus ;Lacticaseibacillus Rhamnosus
L.Rhamnosus;
Lactic acid bacteria powder,
Probiotics;
2.Product storage
cool and dry place,stored below 4℃ shelf life is 24 months from the date of production
3.Product specification
Appearance :White to light yellow powder, no agglomeration
Packing: 1Kg-25Kg in bags and cover paper skin Over 20kg in drum.
ITEMS
SPECIFICATION
Appearance
milk white or yellowish powder
Loss On Drying
≤7.0%
The total number of living bacteria
5.0×10(10)~10(11)cfu/g or specified
Fineness
100%pass the 0.6mm sieve,
>90% pass the 0.4mm sieve
Percentage of other bacterium
≤0.2%
Coliform group
MPN/g≤3.0
Note
Strain:Lactobacillus Rhamnosus
Supplementary Materials: Isomaltooligosaccharide or Maltodextrin
4.Patented probiotic strain-Lactobacillus Rhamnosus-JYLR-005
A kind of Lactobacillus rhamnosus JYLR-005 and its hypoglycemic products and applications.

The optimum growth temperature of lactobacillus rhamnosus is 30℃~40℃, the minimum growth temperature is 19~21℃, the optimum pH is 5.5~6.2, the initial growth pH is 3.0~7.0, strong acid tolerance.
Lactobacillus rhamnosus can tolerate the environment of the animal digestive tract and colonize the intestines of humans and animals to regulate the intestinal flora, prevent and treat diarrhea, eliminate toxins, prevent dental caries and improve the immunity of the body.
Under normal conditions, the microflora in the human intestine is fairly constant. Studies have shown that Lactobacillus rhamnosus fermented milk can significantly increase the number of bifidobacteria and lactobacilli in the intestinal tract. Lactobacillus rhamnosus can become part of the intestinal flora and can improve the body's resistance and protect the intestine from harmful bacteria. Lactobacillus rhamnosus has been found to inhibit the adhesion of coliforms to the intestinal mucosa and enterocytes by a mechanism that may be related to the secretion of mucin by Lactobacillus rhamnosus.
| | | |
| --- | --- | --- |
| Our probiotics list | | |
| Strain No. | Strain Name | Specification |
| JYLP-002 | Lactobacillus plantarum | 500B CFU/g |
| JYLR-005 | Lactobacillus rhamnosus | 500B CFU/g |
| JYLP-326 | Lactobacillus plantarum | 500B CFU/g |
| JLPF-176 | Lactobacillus paracasei | 500BCFU/g |
| LC-12 | Lactobacillus casei | 500BCFU/g |
| JYLA-191 | Lactobacillus acidophilus | 100BCFU/g |
| L.Casei21 | Lactobacillus casei | 500BCFU/g |
| JBLC-141 | Bifidobacterium longum | 100BCFU/g |
| BLG-19 | Bifidobacterium longum | 100BCFU/g |
| STN26 | Streptococcus thermophilus | 100BCFU/g |
| BB-20 | Bifidobacterium bifidum | 100BCFU/g |
| JYBR-190 | Bifidobacterium Lactis | 100BCFU/g |
| JYLC-374 | Lactobacillus casei | 500BCFU/g |
| JYLB-291 | Lactobacillus reuteri | 100BCFU/g |
| BCN019 | Weizmannia coagulans | 50BCFU/g |
| JYLS-372 | Lactobacillus salivarius | 100BCFU/g |
| JYLL-60 | Lactococcus lactis | 100BCFU/g |
| JYBR-390 | Bifidobacterium Lactis | 100BCFU/g |
| BBF-06 | Bifidobacterium adolescentis | 100BCFU/g |
| BBR-15 | Bifidobacterium breve | 100BCFU/g |
| JYLB-19 | Lactobacillus bulgaricus | 100B CFU/g |
| JYLF-71 | Lactobacillus fermentum | 100BCFU/g |
| BBI-91 | Bifidobacterium infantis | 100BCFU/g |
| JYLG-12 | Lactobacillus gasseri | 100BCFU/g |
| JYPA-16 | Pediococcus acidilactici | 100B CFU/g |
| JYPP-19 | Pediococcus pentosaceus | 100BCFU/g |
| King 11 | Clostridium butyricum | 100B CFU/g |
| King37 | Enterococcus faecalis | 100BCFU/g |
| King78 | Bacillus Subtlis | 100B CFU/g |
| King82 | Bacillus licheniformis | 100BCFU/g |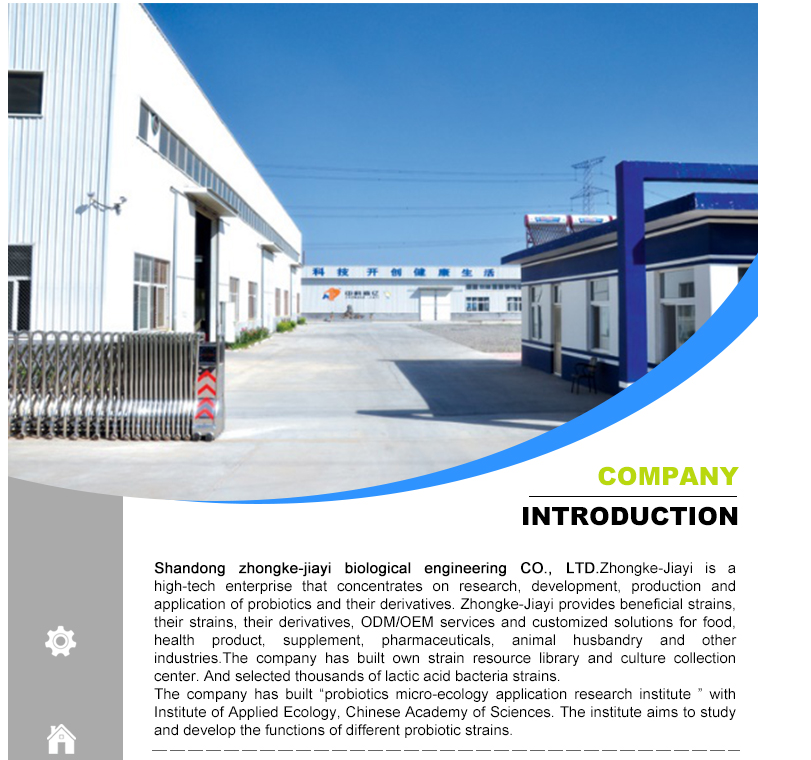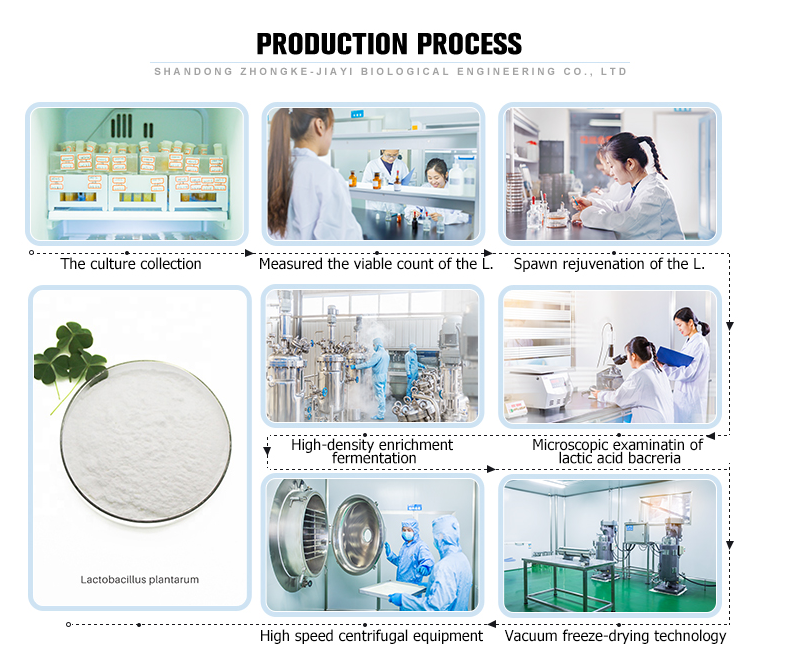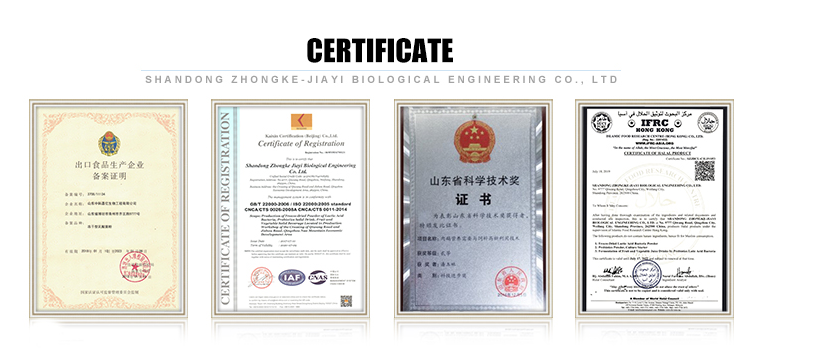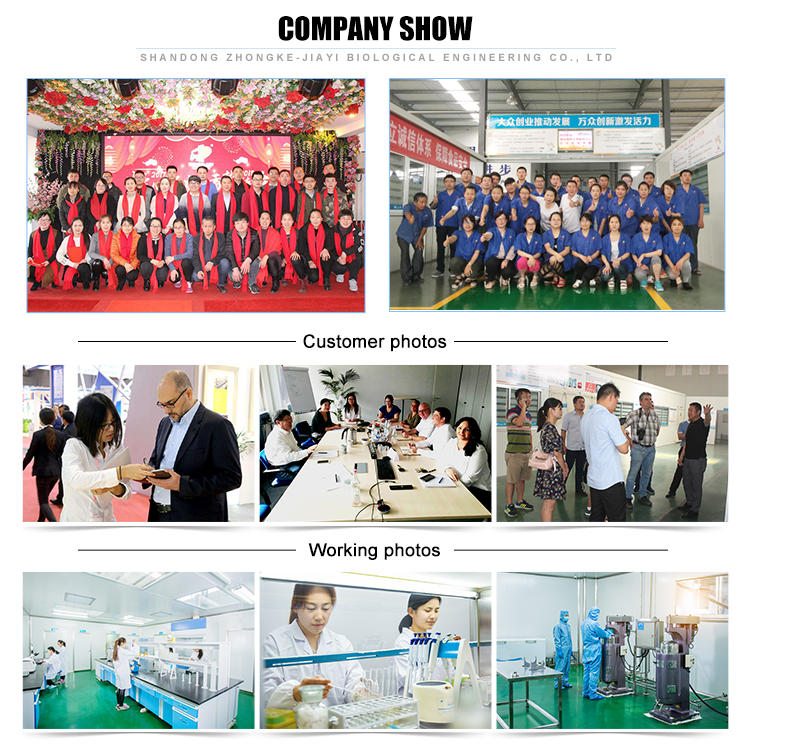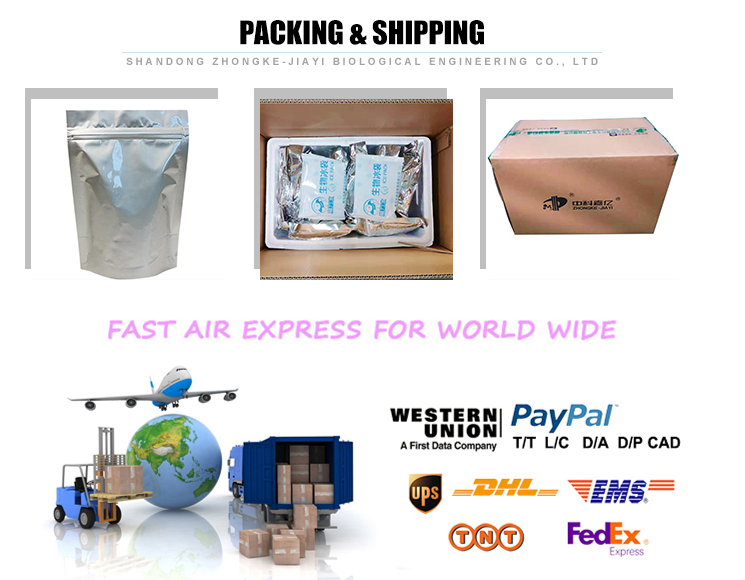 Get the latest price? We'll respond as soon as possible(within 12 hours)